Neue Firmware für Orqa FPV.one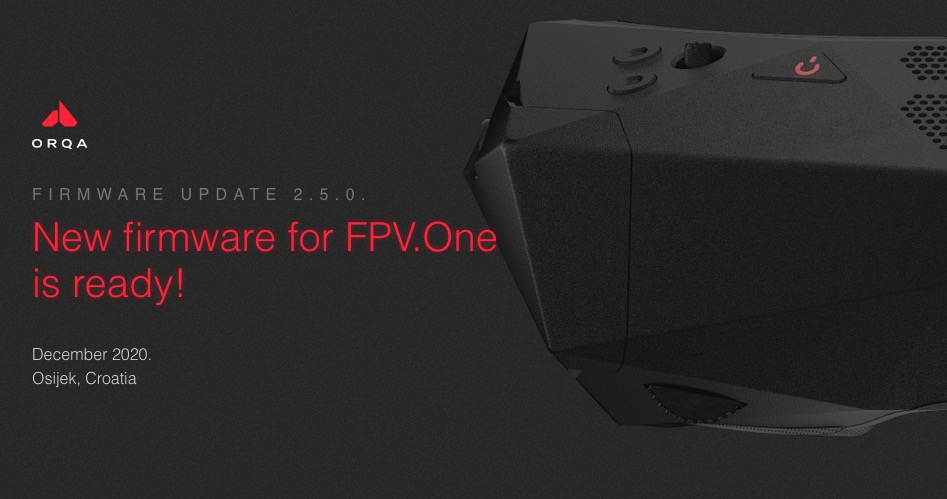 Neue Firmware in der Version 2.5.0 für die Orqa FPV.one
Die englischen Release Notes dazu:
IMPORTANT NOTES:
This update will be the new base-line FW version. This FW version will be a minimum required for further updates.
IF YOU INSTALL THIS FW VERSION, THERE WILL BE NO WAY TO GO BACK TO OLDER VERSIONS OF THE FIRMWARE!
Using DVR recording during the live stream can still freeze the goggles, in case of a video signal loss. You will still be able to view live VRx feed on the screen, but the buttons will stop working, and you will need to unplug the battery to recover the goggles.
If you are using both DVR record and live stream feature at the same time, make sure you don't turn off your quad before turning off the DVR or live stream, because the video signal loss will cause control buttons to stop working.
List of bugs fixed in this release:
fixed bug where DVR will sometimes freeze goggles;

fixed bug where Live Streaming will sometimes freeze goggles;

fixed UX bug where "SD CARD FULL" message would obstruct view;

other minor OSD fixes.
List of changes in this release:
Manual standby mode added (long press battery and DVR button together);

Quick playback menu access added (long press DVR button);

User Profiles can now be accessed and edited via Orqa Connect mobile app ( now you can change settings in the goggles via the app and see the changes in real-time both in the goggles and in the app)
Download update for FPV.One on the link below:
https://orqafpv.com/firmware
or open your FPV.Connect app and update automatically.
Apple App Store:
https://bit.ly/FPVConnect
Google Play Store
https://bit.ly/FPVConnectAPP
Shop for Orqa products:
https://shop.orqafpv.com/